This is my "First Thoughts" Review of my new Realistic Sex Doll.  I will try to cover all the most important information.  Comments and questions are welcome.
For my first Birthday show on Chaturbate (April, 3, 2018), I wanted to do something wildly unusual and outrageous.  And I've been secretly fascinated by these realistic sex dolls for a long time.  So I ordered Ashley online and unveiled her live before 1500 of my closest Chaturbate friends.  It was an amazing time, and I will never forget it.
Ashley and I are going to have wonderful, erotic fun together, and I want to share her with you.  She will become a regular fixture and participant in my nightly video chat performances, and I'm sure she will arouse and amuse us all.
I'll have much more to say about her as I learn every inch of her skin, and I can't wait to see what happens next!
If you're interested in purchasing a doll of your own, I'd love to meet you and I'm happy to share my thoughts and experiences with you.  You're welcome to come by my videochat room and watch me interact with her live. I'll be happy to answer whatever questions I can for you.  There is no charge to watch and interact in my chatroom, but you will need to create a screen name to chat (no credit card required).
Ashley's Details:
She is not a "Real Doll" branded doll.  Those dolls, while beautiful and of top-grade quality, are far beyond my budget.
I purchased Ashley on Amazon.  I paid $799 and received free shipping.
Material: TPE Body & Metal Skeleton
Skin Color: Tan
Height: 62inch(158cm)
Upper Bust: 32.68in(83cm)
Lower Bust: 19.29in(49cm)
Cup Size: F cup
Waist: 20.47in(52cm)
Hip: 29.53in(75cm)
Arm Length: 19.29in(49cm)
Palm Length:5.91in(15cm)
Leg Length: 30.31in(77cm)
Foot Length:7.87in(20cm)
Fingernails: Yes
Pupil Color: Brown
Hair Color: Gold
Three entries (vagina, anal, oral)
Oral Depth:5.12in(13cm)
Anal Depth:7.48in( 19cm)
Vaginal Depth:7.87in(20cm)
Weight: 81.57lbs(37KG)
Packing Size:(59.10in*17.72in*11.81in)(150cm*45cm*30cm)
My Early Thoughts:
Ashley is beautiful.  She has been great fun to dress up and fondle.  I love performing with her on cam.
Her skin is soft and remarkably life-like (perhaps 7/10 on the realness scale).  Though I think that would be more like 8 or 9/10 if I took the time to warm her up with a warming blanket.
She is a bit firmer than a real human.  Her butt, thighs, breasts, stomach… are all a degree more rigid than yours and mine.  But the lost realism is worth the added sturdiness, because she is very heavy (82 lbs).  And as I move her around the house, I inevitably bump her against door jambs, furniture, etc.  If she were softer, I assume she'd be more fragile.
Ashley arrived with a golden colored wig and blue-green eyes (though the Amazon description said she has brown eyes).  No complaints.  I think her eyes are very pretty and realistic looking.
Her joints are quite flexible, and I've been delighted to bend her into several different positions.  Shoulders, elbows, wrists, knees, hips, neck, and even her spine are articulating.  Some joints (like her hips and spine) are very stiff and it often takes all my strength to manhandle her into position.  Knees and elbows are far easier to maneuver.
Ashley's head arrived unattached to the body, which was quite a sight to behold in the box.  The head easily  twists onto her neck and can be removed for cleaning.  I think her face is beautiful and well proportioned.  Her lips are soft and kissable, though firmer than real human lips.  I think her makeup is pretty and it's neutral enough that it should look fine with a wide variety of wigs.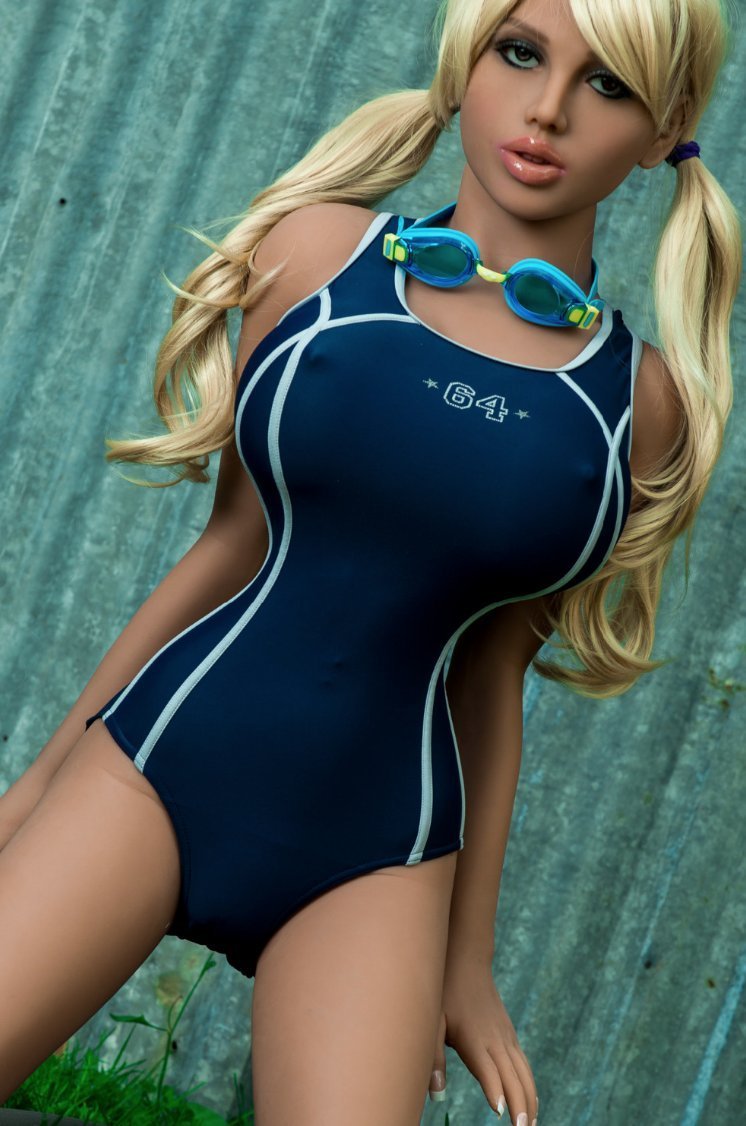 Her head is pretty small, so finding wigs that don't swallow her face may be a challenge.  Not sure about that yet.  But I love the idea of putting all kinds of different wigs on her, because they'll dramatically change her appearance.  It will be fun to experiment.
The wig that came with her seems to be fine quality (for a costume wig).  It's all synthetic, but it looks real enough to my eyes.  During my aforementioned Birthday performance, I did a Nuru massage with Ashley so that I (and all my viewers) could explore her body for the first time. The Nuru gel was *everywhere* and the wig collected a decent quantity of the slippery goo.  But it washed out easily, combed back into shape, and the wig looks like new today.
I know everyone is wondering… Yes, Ashley does have 3 working orifices (mouth, vagina, anus). They are *very* snug openings and will require a high-quality water-based lubricant if intercourse is the goal. Using my fingers only, I would say that all three openings feel wonderful and are quite life-like inside.  They are tight.  Really tight.  But I'm sure could be opened up a bit with some slow and gentle pressure.
Personally I don't think frequent intercourse is the wisest use for an $800 / 80lb doll, as I will discuss later.  But if intercourse is your objective, I think Ashley's holes would need some gentle 'breaking in' even for very small penises.
Maintenance and Longevity:
Now that Ashley is part of my life, I'm beginning to understand how humans could become deeply attached to their non-human counterparts.  Probably not like pets, but for some (especially those who are particularly lonely), I think their doll devotion could become rather intense.
That fact makes maintenance and longevity all the more important.
Ashley seems to be well constructed, and I think she will last quite some time, as long as I keep up with the required cleaning / maintenance and continue to be very careful not to damage her when moving around the house.
Owning and caring for a doll like this requires real commitment.  Washing and powdering her is a serious chore.  (Baby powder is used to prevent stickiness and keep her skin silky soft.)
After heaving her into the bathtub and washing her with a mild liquid soap, I've found that it's best to let her air dry because her wet skin can be very tacky; it eagerly grabs lint fibers off of terry cloth and microfiber towels.
So after she has completely air dried, then she needs a heavy dusting of baby powder — everywhere — every square inch.  Armpits, between her fingers and toes, front, back… everywhere.  And for best results, the powder needs to be massaged into the skin, not just sprinkled.
So a routine full-body wash and powder can easily take all afternoon (including drying time).  And you need ample space to work with the powder.  I'm fortunate to have a large island in my kitchen, and that's the only place I have enough room to work on her. So don't be surprised if you walk into my house and find a naked, half-powdered sex doll sprawled wide open on my kitchen counter!
Most of the time smaller spot cleanings and powdering will be fine.  But the manufacture recommends a full wash every 30 days to prevent cracking.
All of that to say… I personally would not use Ashley for intercourse.  Too much hassle to clean and powder every time.  She feels amazing and I love to squeeze, hold, and fondle her.  She feels nice when I have her leaning against me watching TV.  And she would probably make a cozy sleeping companion.
But gentlemen, a masturbation sleeve or pocket pussy would be far more convenient to use and clean for daily sex.  If I were a man and wanted to use her for sex, my method would be to hold, fondle, and kiss her while masturbating with a Fleshlight (or similar device).  To me, that makes the most sense in terms of balancing pleasure time versus maintenance time.
That is, of course, my opinion.  I'd love to know your thoughts on the topic.  Feel free to leave your comments below.
Now, how about a few more pictures?
(These are the product images provided by Amazon.com. I will be uploading some of my own shots of Ashley in the future.  Stay tuned.)