Lockheart Lounge Vinyl
The record collection in Lockheart Lounge was inspired by two things:
— All the inspirational, rockin' times we spent together last season.
— And the picture of the On The Record Club in Las Vegas — (discussed in more depth here).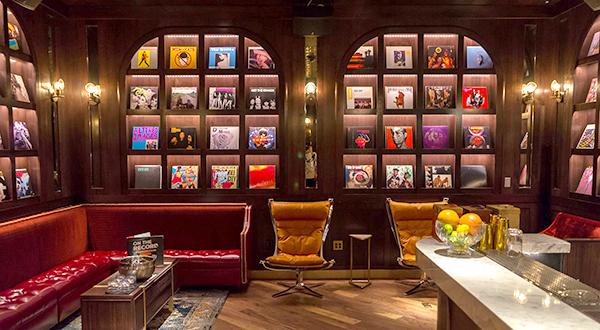 My ultimate dream would be to display albums that reflect US as a group.
That's no small task, because we each have unique tastes, experiences, etc.
But at the very least, I wanted a way for my fans to express themselves individually within Lockheart Lounge.
That's where I came up with the idea for Sponsorships and Ownerships.
As an album's Sponsor, your name will be forever tied to that record. I will commemorate your Sponsorship with this special card: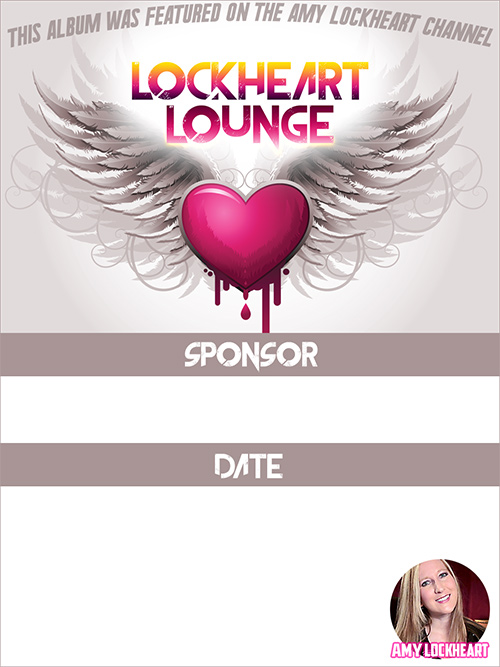 So every time I spin that record, you will be recognized as the Sponsor — and everyone will know that YOU helped make Lockheart Lounge possible.
As an album's Owner, you will become the actual, physical owner of the record. It will remain "on loan" to Lockheart Lounge — similar to the way art collectors loan their artworks to museums.
If you are the Owner of an album, then if/when I close Lockheart Lounge in the future — and move on to a different webcam experience — I will physically box and ship your album(s) to you.
(I will ask you to cover the postage, but there will be no other charges.)
This way you can make the album a part of your personal collection. And you will have a permanent, lasting memento of Lockheart Lounge and all the fun times we spent together.
As an owner, you will be commemorated with an Ownership Card like this: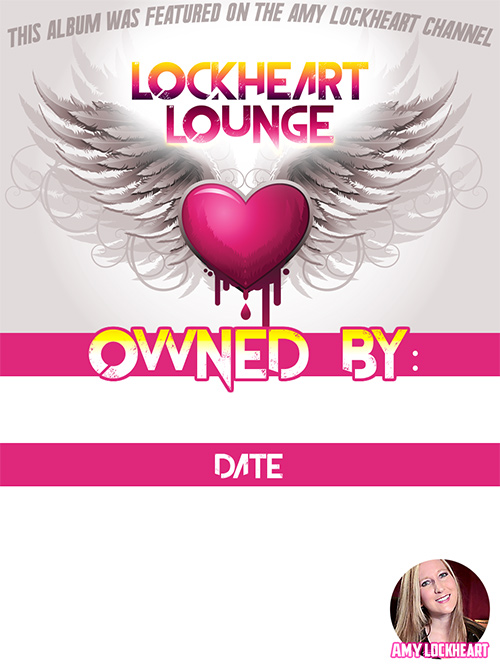 And the finished / archived product will look like this: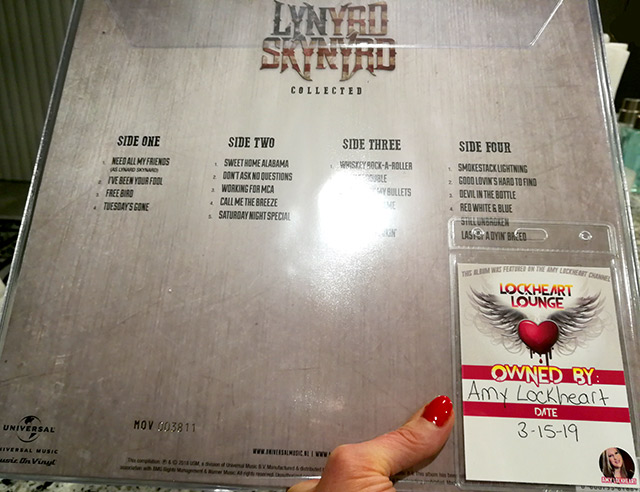 * NOTE: There may be multiple Sponsors for any individual record, but only ONE owner.
Complete List of Lockheart Lounge Vinyl
COVER
ARTIST
TITLE
SPONSOR
OWNER
A-Ha
Hunting High and Low
nobody yet
nobody yet
ABBA
Gold - Greatest Hits
nobody yet
nobody yet
AC/DC
High Voltage
* Rurar
* Wayner011
nobody yet
AC/DC
For Those About to Rock
* Wayner011
nobody yet
AC/DC
The Razor's Edge
* Wayner011
nobody yet
AC/DC
Let There Be Rock
nobody yet
nobody yet
AC/DC
Back in Black
* Rurar
* KingKummm
nobody yet
AC/DC
Dirty Deeds Done Dirt Cheap
* Rurar
nobody yet
AC/DC
Highway to Hell
* Wayner011
nobody yet
Adam Lambert
The Original High
nobody yet
nobody yet
Adele
21
nobody yet
nobody yet
Aerosmith
Toys in the Attic
* Wayner011
nobody yet
Aerosmith
Pump
nobody yet
nobody yet
Air Supply
Greatest Hits
* Wayner011
nobody yet
Alabama
Roll On
* Rurar
nobody yet
Aldo Nova
Subject
nobody yet
nobody yet
Alice Cooper
The Last Temptation
nobody yet
nobody yet
Alice Cooper
Trash
nobody yet
nobody yet
Avril Lavigne
Avril Lavigne
nobody yet
AmyLockheart
Avril Lavigne
Head Above Water
* KingKummm
AmyLockheart
Avril Lavigne
Under My Skin
nobody yet
AmyLockheart
Avril Lavigne
Let Go
nobody yet
AmyLockheart
Avril Lavigne
Goodbye Lullaby
nobody yet
AmyLockheart
Avril Lavigne
The Best Damn Thing
nobody yet
AmyLockheart
B.B King & Eric Clapton
Riding with the King
* HungLikeAChicken
* KingKummm
KingKummm
Babys
S/T
nobody yet
nobody yet
Bad English
When I See You Smile - 12" Single
* Jboff343
AmyLockheart
Bad English
Bad English
* Jboff343
nobody yet
Bangles
Different Light
nobody yet
nobody yet
Barbra Streisand
Barbra Joan Streisand
nobody yet
nobody yet
Barbra Streisand
Barbra Streisand Greatest Hits
* Rurar
Buggs4565
Beatles
Abbey Road
* Wayner011
Buggs4565
Billy Idol
Idolize Yourself - Very Best of Billy Idol
nobody yet
nobody yet
Billy Joel
The Stranger
* jorm_ungandr
jorm_ungandr
Black Sabbath
13
* KingKummm
nobody yet
Black Sabbath
Sabbath Bloody Sabbath
* Wayner011
nobody yet
Black Sabbath
Master of Reality
nobody yet
nobody yet
Black Sabbath
Sabotage
nobody yet
nobody yet
Black Sabbath
Paranoid
* KingKummm
nobody yet
Black Sabbath
Technical Ecstasy
nobody yet
nobody yet
Black Sabbath
Black Sabbath
* KingKummm
nobody yet
Blue Oyster Cult
Agents of Fortune
* Wayner011
nobody yet
Bon Jovi
Slippery When Wet
* Wayner011
nobody yet
Bonnie Tyler
Faster Than the Speed of Night
nobody yet
nobody yet
Boston
Don't Look Back
* LockheartLover
nobody yet
Boston
Third Stage
* Wayner011
nobody yet
Boston
Boston
* jorm_ungandr
jorm_ungandr
Britney Spears
Glory
nobody yet
nobody yet
Bruce Springsteen
Greatest Hits
nobody yet
nobody yet
Bryan Adams
Ultimate
* LockheartLover
* Wayner011
AmyLockheart
Carbon Based Lifeforms
TwentyThree
nobody yet
nobody yet
Carbon Based Lifeforms
Derelicts
nobody yet
nobody yet
Carbon Based Lifeforms
Interloper
nobody yet
nobody yet
Carbon Based Lifeforms
The Path
nobody yet
nobody yet
Carbon Based Lifeforms
World of Sleepers
nobody yet
nobody yet
Carrie Underwood
Cry Pretty
* KingKummm
AmyLockheart
Cars
The Cars
* LockheartLover
nobody yet
Cars
Moving in Stereo - Best of the Cars
* LockheartLover
* KingKummm
nobody yet
Celldweller
End of an Empire
* LockheartLover
AmyLockheart
Cheap Trick
at Budokan - Complete Concert
* LockheartLover
nobody yet
Chicago
Greatest Hits - 1982-1989
* Wayner011
nobody yet
Chris Stapleton
Traveler
nobody yet
nobody yet
Christina Aguilera
Stripped
nobody yet
nobody yet
Coldplay
X&Y
nobody yet
nobody yet
Cream
Disraeli Gears
nobody yet
nobody yet
Creedence Clearwater Revival
Chronicle - 20 Greatest Hits
* LockheartLover
Buggs4565
Cure
Greatest Hits
* KingKummm
nobody yet
Cyndi Lauper
She's So Unusual
nobody yet
nobody yet
Dan Seals
Won't Be Blue Anymore
nobody yet
nobody yet
Deep Purple
Machine Head
* Wayner011
nobody yet
Def Leppard
Hysteria
* Jboff343
nobody yet
Def Leppard
Def Leppard
* Wayner011
nobody yet
Depeche Mode
Violator
nobody yet
nobody yet
Dire Straits
Brothers in Arms
* WindWardHawk
* KingKummm
AmyLockheart
Dire Straits
Brothers in Arms - Autographed by Mark Knopfler
* LockheartLover
AmyLockheart
Disturbed
Immortalized
nobody yet
nobody yet
Dolly Parton
Jolene
nobody yet
nobody yet
Eagles
Hell Freezes Over
* Wayner011
nobody yet
Ed Sheeran
Divide
nobody yet
nobody yet
Ellie Goulding
Delirium
* Jboff343
nobody yet
Eric Clapton
Money and Cigarettes
nobody yet
nobody yet
Europe
The Final Countdown
* Wayner011
nobody yet
Eurythmics
Greatest Hits
nobody yet
nobody yet
Evanescence
Fallen
* BiggKlink
nobody yet
Extreme
Pornograffitti
* Jboff343
AmyLockheart
Fine Young Cannibals
The Raw & The Cooked
nobody yet
nobody yet
Fleetwood Mac
Rumours
* Johnny5562
nobody yet
Foo Fighters
Greatest Hits
* Jboff343
nobody yet
Foreigner
4
nobody yet
nobody yet
Foreigner
Agent Provocateur
* Wayner011
* jorm_ungandr
nobody yet
Foreigner
40 - Hits From 40 Years - 1977-2017
nobody yet
nobody yet
Galactic Cowboys
Long Way Back to the Moon
nobody yet
nobody yet
Gary Clark Jr.
Blak and Blu
* KingKummm
nobody yet
George Strait
Icon
nobody yet
nobody yet
Goo Goo Dolls
A Boy Named Goo
nobody yet
nobody yet
Greta Van Fleet
From the Fires - (RSD)
* Jboff343
AmyLockheart
Greta Van Fleet
Anthem of the Peaceful Army
* Jboff343
nobody yet
Guns N' Roses
Appetite For Destruction
* jorm_ungandr
nobody yet
Halestorm
The Strange Case of...
* KingKummm
nobody yet
Halestorm
Into the Wild Life
* Jbof343
nobody yet
Hall & Oates
Voices
nobody yet
nobody yet
Head East
A Different Kind of Crazy
nobody yet
nobody yet
Head East
Get Yourself Up
nobody yet
nobody yet
Heart
Bad Animals
nobody yet
nobody yet
Heart
Live in Atlantic City
nobody yet
nobody yet
Heart
Heart
nobody yet
nobody yet
Heart
Little Queen
nobody yet
nobody yet
Heart
Passionworks
nobody yet
nobody yet
Heart
Dog & Butterfly
nobody yet
nobody yet
Heart
Magazine
nobody yet
nobody yet
Heart
Dreamboat Annie
* jorm_ungandr
nobody yet
Imagine Dragons
Evolve
nobody yet
nobody yet
Imagine Dragons
Night Visions
* Rurar
* Mattheide81
nobody yet
J. Geils Band
Freeze-Frame
* Rurar
* jorm_ungandr
nobody yet
Jeff Beck
Flash
nobody yet
nobody yet
Jeff Beck
Wired
nobody yet
nobody yet
Jeff Beck
There and Back
nobody yet
nobody yet
Jeff Beck
Blow by Blow
* KingKummm
nobody yet
Jimi Hendrix
Experience Hendrix - The Best of Jimi Hendrrix
nobody yet
nobody yet
Jimi Hendrix
Valleys of Neptune
nobody yet
nobody yet
Jimi Hendrix Experience
Electric Ladyland
* KingKummm
nobody yet
Joe Bonamassa
Sloe Gin
* Pops19461
nobody yet
Joe Cocker
I Can Stand a Little Rain
* KingKummm
nobody yet
John Cougar Mellencamp
Scarecrow
nobody yet
nobody yet
Johnny Cash
American IV
* KingKummm
Johnny5562
Johnny Cash
The Legend of Cash
* KingKummm
AmyLockheart
Johnny Cash
The Essential Johnny Cash
* KingKummm
nobody yet
John Waite
Ignition
nobody yet
nobody yet
John Waite
No Brakes
* Jboff343
Jboff343
John Waite
Mask of Smiles
* Jboff343
AmyLockheart
Josh Groban
Bridges
* LockheartLover
* Mattheide81
AmyLockheart
Journey
Greatest Hits Vol. 1
* Jboff343
* KingKummm
AmyLockheart
Journey
Captured
nobody yet
nobody yet
Journey
Raised on Radio
nobody yet
nobody yet
Katy Perry
Prism
* KingKummm
LockheartLover
Katy Perry
Teenage Dream
* KingKummm
nobody yet
Keith Urban
Love, Pain, & the Whole Crazy Thing
nobody yet
nobody yet
Keith Urban
Get Closer
nobody yet
nobody yet
Keith Urban
Golden Road
nobody yet
nobody yet
Keith Urban
Be Here
nobody yet
nobody yet
Keith Urban
Graffiti U
nobody yet
nobody yet
Keith Urban
Fuse
nobody yet
nobody yet
Kenny Rogers
Greatest Hits
nobody yet
nobody yet
Kenny Rogers
The Gambler
nobody yet
nobody yet
Kim Carnes
Mistaken Identity
nobody yet
nobody yet
Kiss
Animalize
nobody yet
nobody yet
Lady Gaga
Born This Way
nobody yet
nobody yet
Led Zeppelin
II
* KingKummm
Buggs4565
Led Zeppelin
IV
* Wayner011
* KingKummm
KingKummm
Lifehouse
No Name Face
* LockheartLover
AmyLockheart
Lights
Little Machines
nobody yet
nobody yet
Linda Ronstadt
What's New
nobody yet
nobody yet
Lionel Richie
Dancing on the Ceiling
nobody yet
nobody yet
Lionel Richie
Lionel Richie
nobody yet
nobody yet
Live
Throwing Copper
nobody yet
nobody yet
Liz Phair
Liz Phair
nobody yet
nobody yet
Lynyrd Skynyrd
Collected
* KingKummm
* LockheartLover
AmyLockheart
Madonna
Erotica
* KingKummm
nobody yet
Madonna
Like a Prayer
nobody yet
nobody yet
Madonna
Like a Virgin
nobody yet
nobody yet
Madonna
Rebel Heart
* KingKummm
nobody yet
Madonna
Something to Remember
nobody yet
nobody yet
Madonna
Music
nobody yet
nobody yet
Madonna
Confessions on a Dance Floor
nobody yet
nobody yet
Maroon 5
V
nobody yet
nobody yet
Meat Loaf
Bat Out of Hell
* Jboff343
AmyLockheart
Meat Loaf
Bat Out of Hell II - Back Into Hell
nobody yet
nobody yet
Metallica
Metallica
nobody yet
nobody yet
Metallica
Ride the Lightning
* BiggKlink
nobody yet
Metallica
Master of Puppets
* Rurar
nobody yet
Metallica
Load
* GS070448
* KingKummm
nobody yet
Michael Jackson
Thriller
nobody yet
Buggs4565
Milli Vanilli
Girl You Know It's True
nobody yet
nobody yet
Motley Crue
Theatre of Pain
* Rurar
nobody yet
Motley Crue
Shout at the Devil
* Rurar
nobody yet
Motley Crue
Dr. Feelgood
nobody yet
nobody yet
Motley Crue
Greatest Hits
nobody yet
nobody yet
Mr. Mister
Welcome to the Real World
nobody yet
nobody yet
Nazareth
Loud & Proud - Anthology
* Wayner011
nobody yet
NeedToBreathe
The Outsiders
nobody yet
nobody yet
Nirvana
Nevermind
* BiggKlink
nobody yet
Norah Jones
Come Away with Me
nobody yet
nobody yet
Olivia Newton John
Physical
* Pops19461
Buggs4565
Ozzy Osbourne
Memoirs of a Madman
nobody yet
KingKummm
Pat Benatar
Crimes of Passion
nobody yet
nobody yet
Pat Benatar
Tropico
nobody yet
nobody yet
Pat Travers
Radio Active
nobody yet
nobody yet
Pearl Jam
Ten
* jorm_ungandr
nobody yet
Peter Gabriel
So
* SaturnFive
Jboff353
Phil Collins
No Jacket Required
nobody yet
nobody yet
Phil Collins
Face Value
nobody yet
nobody yet
Pink Floyd
Wish You Were Here
* Wayner011
nobody yet
Pink Floyd
Dark Side of the Moon
* Rurar
nobody yet
Poison
Open Up and Say... Ahh!
* jorm_ungandr
nobody yet
Pretty Reckless
Going to Hell
* Jboff343
* KingKummm
nobody yet
Pretty Reckless
Who You Selling For?
* KingKummm
nobody yet
Prince
Purple Rain
* LockheartLover
nobody yet
Queen
Bohemian Rhapsody
* BiggKlink
Buggs4565
REO Speedwagon
The Hits
* LockheartLover
nobody yet
Richard Marx
Repeat Offender
* Wayner011
nobody yet
Robert Palmer
Heavy Nova
nobody yet
nobody yet
Robert Palmer
Riptide
* Wayner011
nobody yet
Robert Plant
Manic Nirvana
nobody yet
nobody yet
Roger Daltrey
One of the Boys
nobody yet
nobody yet
Rolling Stones
Hot Rocks - 1964-1971
* LockheartLover
Buggs4565
Roxette
Look Sharp
nobody yet
nobody yet
Roxette
Joyride
nobody yet
nobody yet
Rush
A Show of Hands
nobody yet
nobody yet
Sam Smith
In the Lonely Hour
nobody yet
nobody yet
Scorpions
Love at First Sting
* Wayner011
Wayner011
Sia
1000 Forms of Fear
* KingKummm
nobody yet
Snow Patrol
Eyes Open
nobody yet
nobody yet
Steve Earle
Copperhead road
nobody yet
nobody yet
Steve Miller Band
Greatest Hits • 1974-78
nobody yet
jorm_ungandr
Steve Perry
Street Talk
* Jboff343
nobody yet
Steve Taylor
Meltdown
nobody yet
nobody yet
Stevie Ray Vaughn
Essential Stevie Ray Vaughn
* KingKummm
nobody yet
Stryper
To Hell With the Devil
nobody yet
nobody yet
Styx
The Grand Illusion
* LockheartLover
nobody yet
Supertramp
Breakfast in America
* LockheartLover
nobody yet
Survivor
When Seconds Count
nobody yet
nobody yet
Survivor
Eye of the Tiger
nobody yet
nobody yet
Survivor
Caught in the Game
nobody yet
nobody yet
Survivor
Vital Signs
nobody yet
nobody yet
Ted Nugent
Weekend Warriors
nobody yet
nobody yet
The Call
Modern Romans
nobody yet
nobody yet
The Who
Tommy
nobody yet
HungLikeAChicken
The Who
Who's Next
* Johnny5562
nobody yet
Tom Petty
Full Moon Fever
nobody yet
nobody yet
Tom Petty and the Heartbreakers
The Best of Everything - Box Set
* LockheartLover
* KingKummm
AmyLockheart
Tom Petty and the Heartbreakers
Damn the Torpedoes
* LockheartLover
nobody yet
Tonio K.
Notes From a Lost Civilization
nobody yet
nobody yet
Tonio K.
Romeo Unchained
nobody yet
nobody yet
TOTO
40 Trips Around the Sun
nobody yet
nobody yet
Tove Lo
Lady Wood
nobody yet
nobody yet
Tove Lo
Queen of the Clouds
* KingKummm
nobody yet
Twisted Sister
Stay Hungry
nobody yet
nobody yet
U2
How to Dismantle an Atomic Bomb
* Wayner011
* Jboff343
nobody yet
U2
All That You Can't Leave Behind
nobody yet
nobody yet
U2
18 Singles
* KingKummm
nobody yet
U2
Unforgettable Fire
* Jboff343
nobody yet
Van Halen
Van Halen
* Endoftheworldsurvivor
nobody yet
Van Halen
Fair Warning
nobody yet
nobody yet
Van Halen
1984
* LockheartLover
nobody yet
Various Artists
Pretty Woman - Soundtrack
nobody yet
nobody yet
Various Artists
Saturday Night Fever - Movie Soundtrack
nobody yet
nobody yet
Various Artists
The Greatest Showman - Soundtrack
* Mattheide81
* KingKummmm
Mattheide81
Various Artists
Top Gun - Movie Soundtrack
nobody yet
nobody yet
Various Artists
Flashback! - Rock Classics of the 70's
nobody yet
nobody yet
Various Artists
Rocky III - Soundtrack
nobody yet
nobody yet
Various Artists
Dirty Dancing - Soundtrack
nobody yet
nobody yet
Whitesnake
1987 - 30th Anniversary Edition
* Wayner011
nobody yet
Who
Hits 50
* LockheartLover
nobody yet
ZZ Top
Tonite At Midnight - Live Greatest Hits
nobody yet
nobody yet
ZZ Top
Eliminator
* jorm_ungandr
nobody yet